Kane's Carpet Selection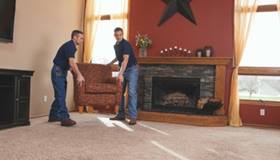 Since 1947, Kane Carpet has emphasized style and fashion throughout its lines of carpets and rugs. It is therefore no surprise that Kane has consistently offered innovative patterns and designs that have added touches of elegance to countless homes across the world.
Kane is one of the only carpet manufacturers to offer a selection of hand-tufted wool carpets. Like all wool carpets, these are naturally soft and stain resistant, so they are suitable for most rooms in the home. They are available in a variety of stylish designs, and since they are hand-tufted, these Kane carpets offer handcrafted quality at more affordable prices.
In addition, Kane continues to be an industry leader when it comes to Eurolon carpet. Eurolon is a special yarn system made from the finest synthetic yarns. As a result, Eurolon carpets are stain resistant, and they also resist bacteria and even static electricity. Furthermore, Eurolon carpets are considered color-fast, which means that they are unlikely to fade over time.
To learn more about Kane Carpet, visit FDW Carpet One in Crystal Lake, IL. Our team of carpet experts will walk you through the entire process, and we'll certainly help you choose the perfect Kane carpet for your desired design!